---
---
Jurnal Manajemen Pendidikan (JMP) e-ISSN: 2548-4834 and p-ISSN: 2548-4826 publishes research results in the field of education: School action research, Classroom action research, Learning process, Learning Evaluation. Jurnal Manajemen Pendidikan (JMP) published by: Lembaga Penelitian dan Pengabdian Masyarakat STKIP Pesisir Selatan. This journal is published in 3 periods in 1 year, namely April, August and December. Jurnal Manajemen Pendidikan (JMP) indexed on Google Scholar, Base, One Search, Garuda, Dimensions, Crossref and Sinta 5.
Jurnal Manajemen Pendidikan (JMP) has been accredited first at rank 5 from Vol. 5, No. 1, Year 2020 - Vol. 9, No. 2, 2024 with the Decree of the Minister of Education and Culture of the Republic of Indonesia Number 225/E/KPT/2022 which is valid for five years since it was stipulated on December 7, 2022.
Current Issue
Vol. 8 No. 2 (2023): JURNAL MANAJEMEN PENDIDIKAN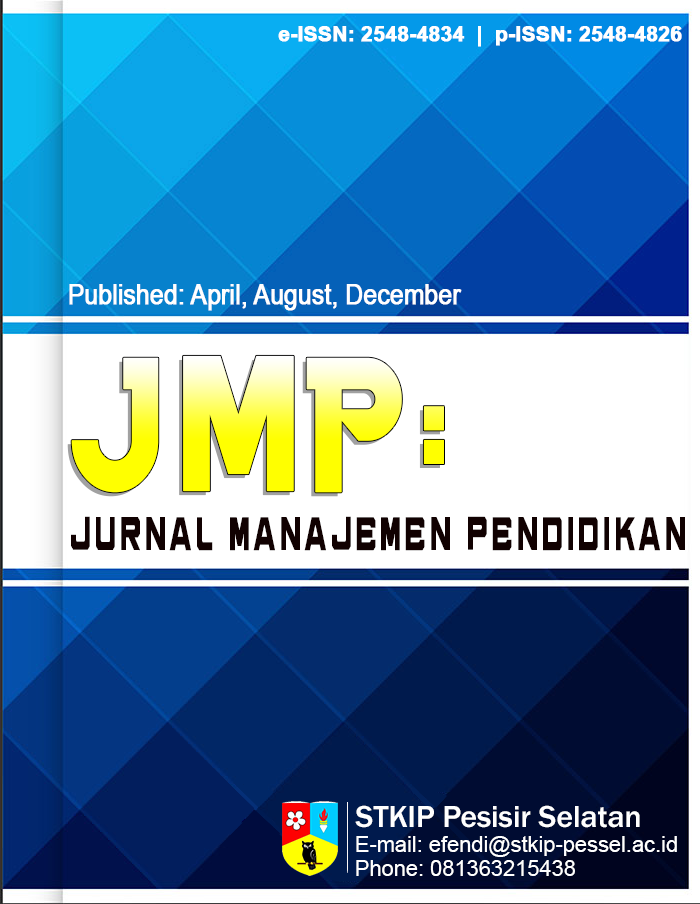 This issue has been available online since 28th Agustus 2023 for the Education. All articles in this issue (6 original research articles) were authored/co-authored by 21 authors from 11 college and 2 countries (Indonesia and South Korea).
View All Issues